1. Frita traditional
El Mago de las Fritas' 
West Miami
You're not officially a Miamian until you've eaten a frita, the Cubano version of the American hamburger with papitas (aka matchstick potatoes) and secret sauce on Cuban bread.
2. Chicken 'n' watermelon 'n' waffles
Yardbird Southern Table & Bar
Miami Beach
The combo of chicken, watermelon, and waffles is about as Southern as you can get, that's why it's the essential menu item at this Southern-inspired restaurant. With honey hot sauce, Vermont sharp cheddar, and Bourbon maple syrup, it satisfies all the taste buds.
3. Stone crabs
Joe's Stone Crab
Miami Beach
If you only eat one thing in Miami, it's gotta be this mild and sweet local delicacy. Get it while it's in season (October-May), and yeah, go on and wear that bib with pride.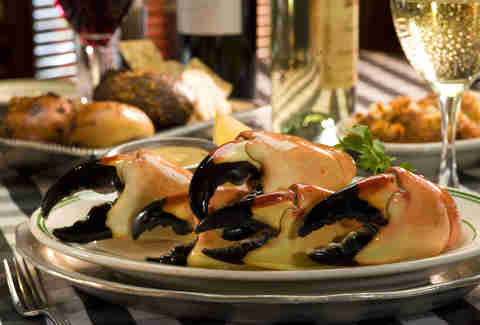 4. Jewban
Josh's Deli
Surfside
Josh adds Jewish flavors to Cuban classics, turning the Cuban sandwich into a one-of-a-kind Miami staple with pastrami, pork, pickles, Swiss, and mustard.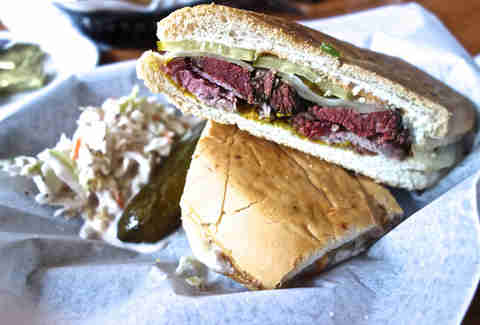 5. Short rib melt
Ms. Cheezious
MiMo
While all of the melts are addictive, opt for owner Fatima's go-to with braised short rib, Jack cheese, pickled onions, and arugula on sourdough bread. Pro tip: the backyard is the best seat in the house, even in the summer.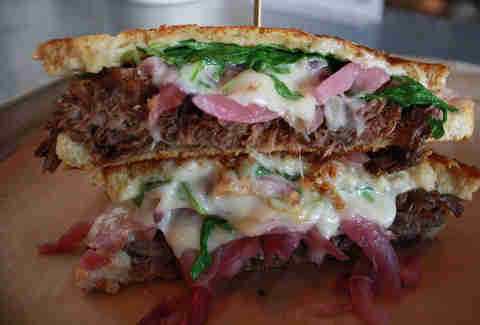 6. Cinnamon rolls
Knaus Berry Farms
Homestead
These fresh-from-the-oven sticky-sweet buns mean hours-long lines during tourist season, November through mid-April. Plan to get there early, 'cause they WILL sell out. For real!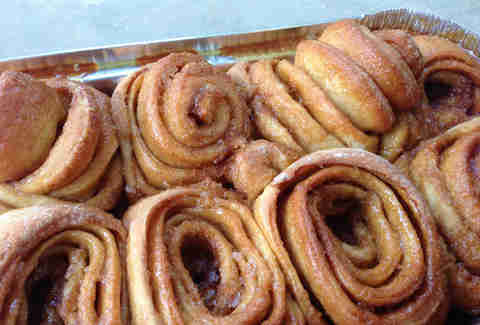 7. Croquetas
Islas Canarias
Tamiami
Finding a contender for the best croqueta is a highly debated topic, but these folks have mastered the whole crispy-on-the-outside and creamy-on-the-inside bit. The main location, out West, even has a drive-thru window for easier procurement.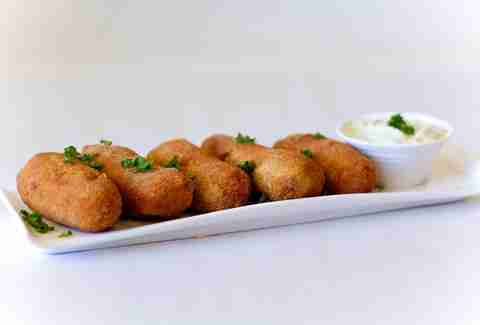 8. Chapulines
The Vagabond Restaurant and Bar
MiMo
Yes, "chapulines" translates into "grasshoppers." Just don't think about what it is and it's the best bar snack you'll ever have. Plus, there's peanuts and cilantro in the mix.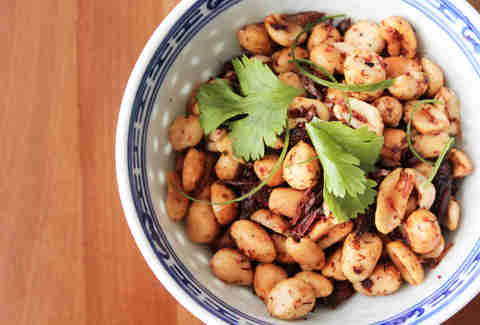 9. Fried chicken
Cena by Michy
Upper East Side
When Michy's turned into Cena, the #1 question on everyone's minds was, 'What about the buttermilk fried chicken?' Thankfully, it brought back the Endless Fried Chicken Feast. The downside is that it's only available on Wednesdays during summer. Here's hoping the place brings it back full time.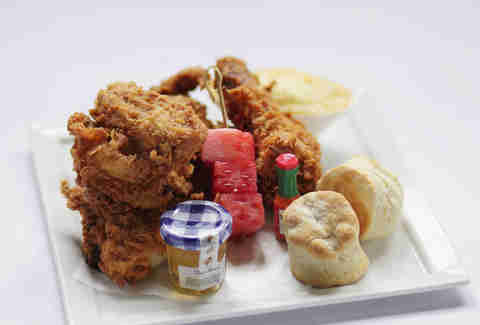 10. Pastrami & sauerkraut dumplings
Pubbelly
Miami Beach
PB bumps that whole gastropub thing up a notch or two to James Beard standards with eats like this dumpling version of pastrami on rye that includes white cabbage soy, Thousand Island, and caraway powder.
11. Cuban sandwich
Enriqueta's Sandwich Shop
Edgewater
Along with everything you'd expect from an old-school Cuban joint — the small counter, multiple low-key tables, and Spanish all around — it offers one of the most traditional Cubanos in town. It's only open for breakfast and lunch, so plan accordingly.
12. Peking duck necks
Blackbrick Chinese
Midtown
Chef Richard Hales is on a mission to get Miamians to start eating weirder ingredients, especially those that lean towards the offal variety. He's starting us off slow with crispy duck necks served with fake MSG. It's working 'cause it's one of the most popular dishes on the menu.
13. Chicken tender sub
Publix
Various locations throughout Miami
As one of Miami's cult classics, this revered sandwich needs no intro at all. Best of all, you can have it your way — in a wrap, with honey mustard, built up, built down, whatever.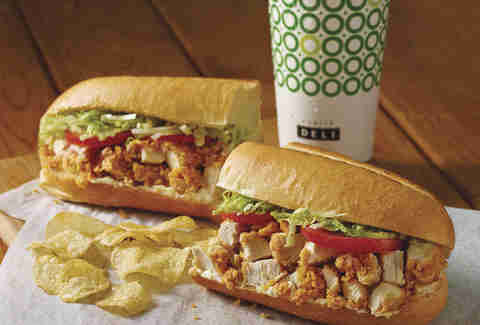 14. 1/4 chicken with plantains and yuca fries
Pollo Tropical
Various locations throughout Miami
Sure, you can find cheap Latin food in large portions all around town, but does it also come with a bizarre history and a chicken mascot? Oh wait, it's Miami…