1. Bridge On the River Kwai
 Places to go and Tourist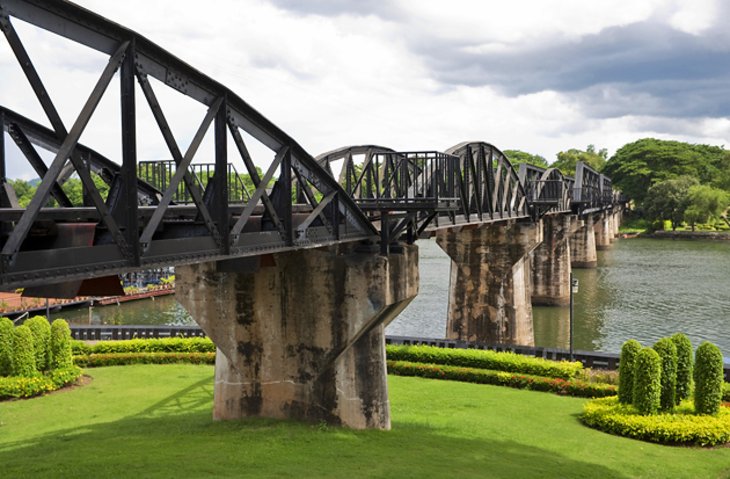 This bridge is the best-known historical landmark in Kanchanaburi. It was erected through the forced labour of British, Dutch, and American prisoners of war during WWII. The bridge was part of the Thai-Burmese "Death Railway," so named because of the scores of men who died during construction. Japanese forces oversaw the project, as the railway would have helped bring supplies to their troops who were fighting the British in neighbouring Burma. Today, you can ride across the bridge, sections of which are from the original structure.
2. Hellfire Pass & Memorial Museum
Places to go and Tourist
The Hellfire Pass is a 500 m-long portion of rock that 1,000 prisoners of war dug out (by hand) to pave the way for the Death Railway. Seven hundred of those men died during the 12-week digging period. Today, it's possible to walk the old railway track into the jungle (which takes about 4 to 5 hours), and visit a memorial museum honouring those who died. The museum houses artefacts, tools, and photos.
3. JEATH War Museum
Places to go and Tourist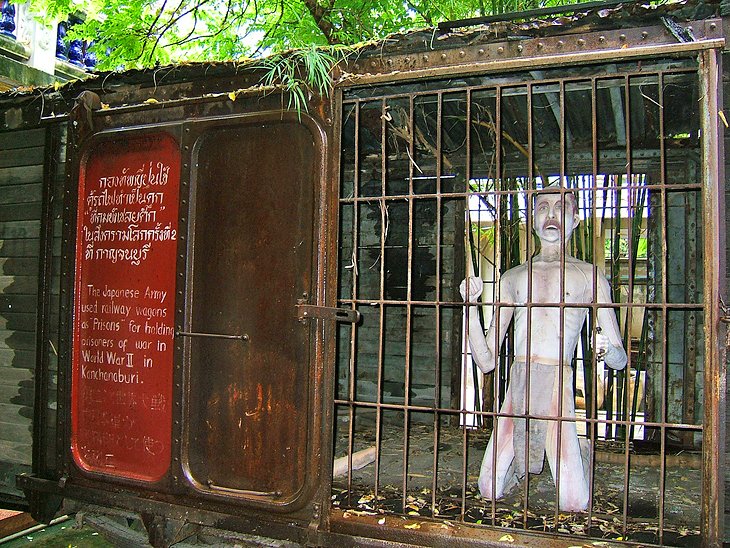 This sobering museum was designed as an exact replica of an actual prisoner of war camp. Located on the grounds of Wat Chai Chumphon, the museum is maintained by a monk and allows travellers a look at the harsh realities of life within these camps. The replica includes bunks, photographs, and other authentic items. The displays include written accounts from actual prisoners of war, their family members, and authors who interviewed POWs. The name of the museum is derived from those countries that were involved in these events: Japan, England, America, Thailand, Holland.
4. Don-Rak War Cemetery
Places to go and Tourist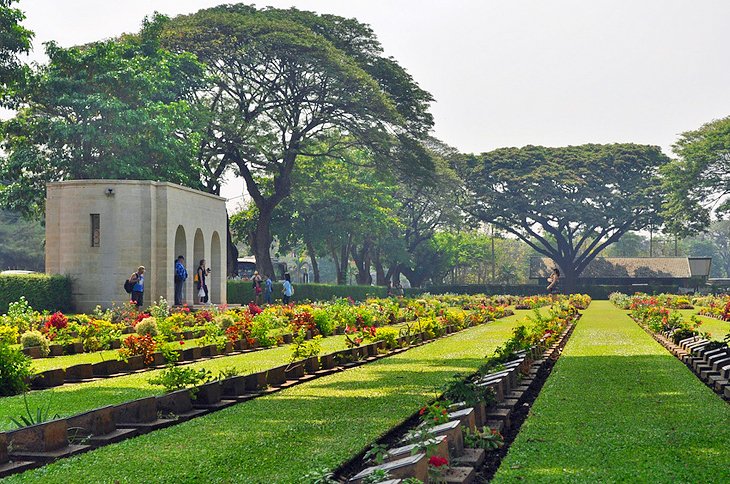 This is the final resting place of nearly 7,000 British, Dutch, and Australian prisoners who died during construction of the Death Railway. It is also known as the Kanchanaburi War Cemetery. The Thai-Burmese Railway
Center (open 9am-5pm, admission 100 baht) is located next to the cemetery.
5. Chonk-Kai Cemetery
Places to go and Tourist
This cemetery houses the graves of 1,740 POWs, and was also the site of a former POW camp. The ground where these prisoners (who were Dutch, British, Malayan, and Indian) were buried is the same place they founded a church and cemetery during their years of internment. Many of those laid to rest at Chonk-Kai died at the nearby hospital. This is the more beautifully landscaped of the two cemeteries, and is found on the banks of the Kwai Noi River, about 2 km south of the city.
6. War Museum at the Bridge
Places to go and Tourist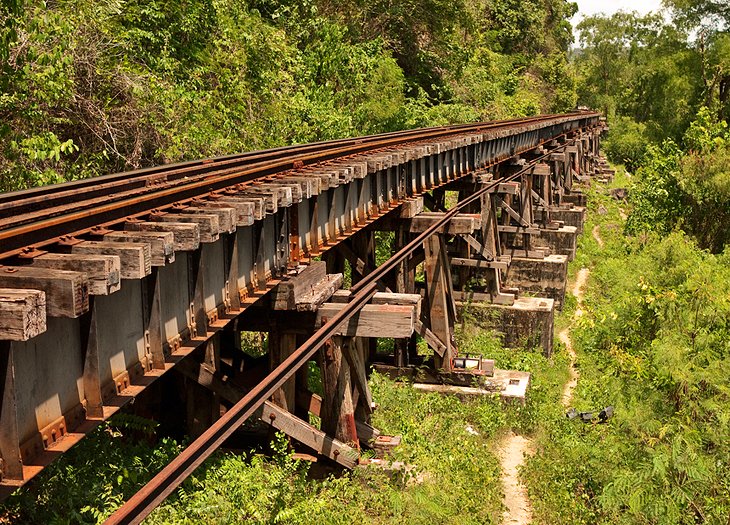 In addition to its collection of WWII relics and memorabilia, this museum also provides a more in-depth look at Thai history. You'll find displays related to ancient battles between Thailand and Burma, Thai political history, and old Khmer-style carved works.
7. Three Pagodas Pass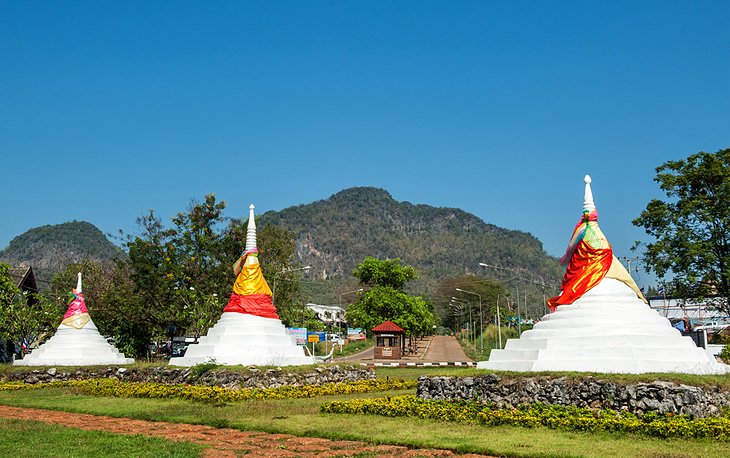 Long recognised as a geographically important site in Thailand and about 250 km from Kanchanaburi, Three Pagodas Pass marks the Thai-Burmese border. It was a stop on ancient trade routes and is historically significant in ancient wars between Thailand and Burma. Hill tribe communities, made up of ethnic minority groups of Thai and/or Burmese origin, inhabit the pass and surrounding areas. You'll find a market at the border, though there is no guarantee the border will be open for crossing (to enter Burma for tourist purposes, travellers must fly into the country and have a Burmese visa).
8. Ban Kao National Museum
Step back 4,000 years to the Neolithic period, and marvel at artefacts from deep into Thai (and human) history. Founded at the site of a Neolithic burial centre discovered by an Allied prisoner of war, Ban Kao National Museum displays skeleton remains, bone jewellery, axes, and other excavated articles from the area.
9. Erawan National Park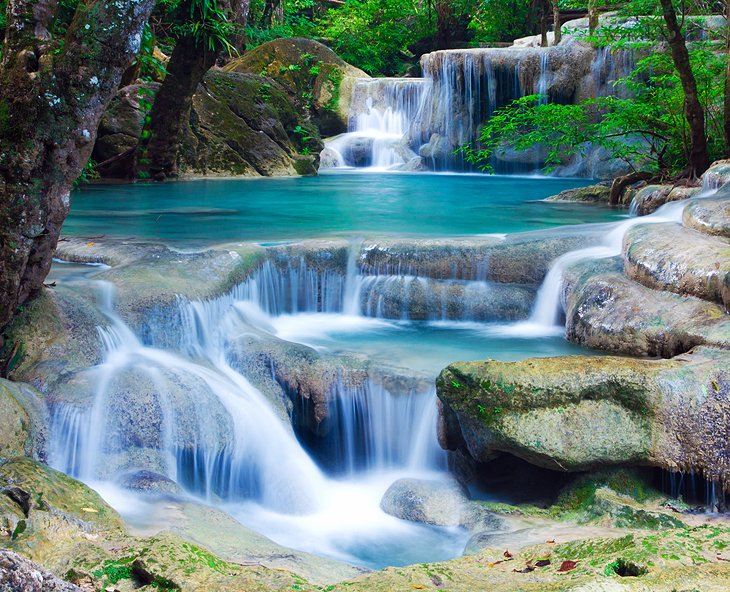 The seven-tiered Erawan Falls are the best-known natural attraction in Kanchanaburi. The water cascades down the mountains in a serene setting, surrounded by lush vegetation and limestone mountains. Guests may spot any number of unique creatures in the national park, including elephants, gibbons, and king cobras. (You'll want to be wary of that last one.) If you're up for a bit of exploration, check out the park's Pra That Cave. You can wander four cavernous rooms and admire the ancient stalagmites and stalactites.
10. Sri Nakarin National Park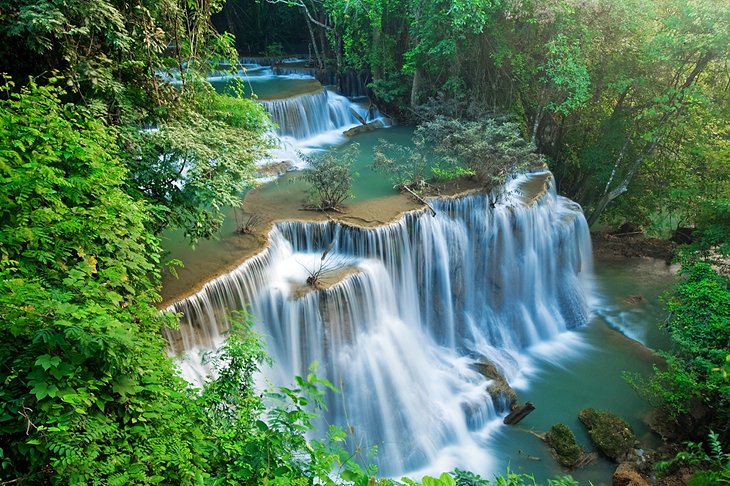 Relax after all that sightseeing by taking a dip in the hot springs at Sri Nakarin National Park. The Kwae Yai River originates in this expansive park, home to a diverse range of wildlife including civets, bats, leopards, and slow lorises. While here, be sure to visit the lovely Huay Mae Khamin Waterfalls, which you can reach by boat or four-wheel vehicle.
11. Pong Teuk
This exciting area is where excavators discovered proof of ancient trade links between Southeast Asia and the Roman Empire. In 1928, researchers discovered a bronze Roman oil lamp shaped like a palm leaf framed by dolphins and with a satyr head. The lamp is believed to have been cast in Alexandria, Egypt, in the second century AD. Building foundations thought to be part of an ancient temple precinct are also of historical significance.
12. Elephant's World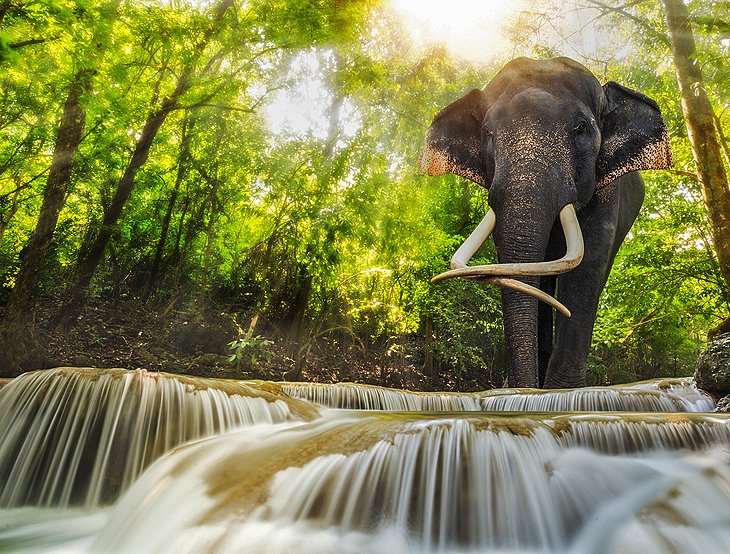 Most people come to Thailand with the hopes of having a divine experience with an elephant, Thailand's most revered creature. Elephant's World provides visitors an opportunity to do that in an ethical way. The elephants here are rescues that have suffered from years of labour and abuse. Rather than riding elephants or watching them perform shows, visitors spend the day in the service of the animals – preparing food for them and bathing them in the river. It's a way to care for abused elephants and volunteer in a meaningful way.
13. Sai Yok Yai
This is a waterfall fit for a king. Indeed, King Rama V once visited this site and it's been praised in Thai songs and poems. The falls are found within the Sai Yok Yai National Park, but are set back 3 km from the road, so be prepared to do some walking or to hop on a motorbike. You can board a boat and ride the rapids at the falls, or skim along the river between the towering rock walls.
14. Prasat Muang Singh National Park
You won't want to miss the opportunity to take in these ancient ruins, once an outpost built against the Burmese. Despite its original purpose, there's something almost magical about standing in the presence of such an old and elegant structure. Here you'll find a preserved shrine and tower gates, and ancient inscriptions in the courtyard. There is also a museum on the premises where visitors can view artefacts and relics already been discovered at the site.
15. Wat Dong Sak
Built of teak, this temple houses a 6th century figure of Vishnu and is in close proximity to the legendary Wat Phra Taen Dong Rang. The latter temple is where the Buddha is said to have lay down in a hollow to enter nirvana. Also nearby is a shrine on a hill, where some say the spiritual figure was cremated.