Miami is an international city at Florida's southeastern tip. Its Cuban influence is reflected in the cafes and cigar shops that line Calle Ocho in Little Havana. On barrier islands across the turquoise waters of Biscayne Bay is Miami Beach, home to South Beach. This glamorous neighborhood is famed for its colorful art deco buildings, white sand, surfside hotels and trendsetting nightclubs.
Miami is one of the state's ' and the world's ' most popular vacation spots. Though destinations often are said to offer something for everyone, the Miami area offers multiple enticements for everyone: The trendy nightlife of South Beach, bejeweled by the eye candy of the Art Deco district. The bustle of Calle Ocho and the highly caffeinated energy of Little Havana. The plush hotels of Miami Beach and the historic hideaways of Coral Gables. Seemingly endless shopping opportunities in modern, sprawling malls and the quiet, personal attention offered by the family-owned shops of Coconut Grove and many other corners of the region. The lures of deep-sea fishing and golf and tennis. Major league football, basketball, hockey and baseball. Boat shows and auto racing. Art festivals and outdoor food and wine extravaganzas. An international airport and the world's busiest cruise port. The Miami area offers all of this ' and so much more.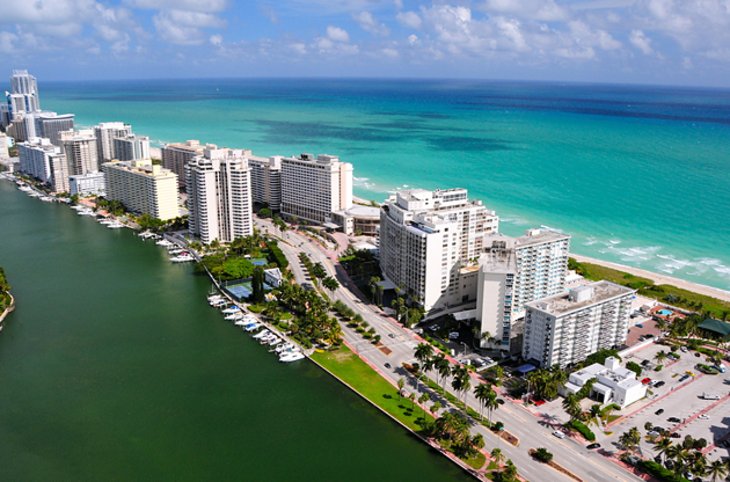 Languages: Spanish, English
Flight from London:' 9 hours 50 minutes
Best Time to Visit
The best time to visit Miami Beach is between March and May' when the sun shines with temperatures in the high 70s and low 80s during the day. Aside from the gorgeous weather, a spring visit allows you to sidestep the peak winter rates. This part of Florida enjoys a subtropical climate, meaning it's usually warm year-round and a bit rainy. Pack an umbrella if you visit in summer or fall; at the very least, you can expect some afternoon showers. In the worst-case scenario, you could experience torrential downpours since hurricane season runs from about June to November.