1. Leaning Tower Of Pisa In Pisa, Italy
The Leaning Tower of Pisa is famously known for its lean. It was built in 1173 by Bonnano Pisano. One of the famous tower was originally intended to stand vertically but began sinking due to poor laid foundation. It was noticed during the construction of the third storey in 1178 and major construction activities stopped for 94 years. Construction resumed in 1272 under the master builder Giovanni di Simone who tried to compensate the lean tower by building the upper floors with one side taller than the other, causing the tower to lean the other side. Construction later went on and off and finally completed in 1350. It currently has a 5.5 degree lean. Pre-book your tickets and save time !
2. Eiffel Tower in Paris, France
The Eiffel Tower, also known as Tour Eiffel, was built in 1889 for the International Exhibition of Paris. It was the worlds tallest and one of the best tower at completion. It was built in 1887 and officially opened on 31 March 1889. It is the most visited place in the world, this famous structure appears in almost all travel photographs that relate to France or Paris. This structure has had more than 2 billion visitors since opening. It is 300 meters tall (984 ft) tall, it has 3 floors and seven elevators. The top floor is at a height of 273 meters (896 ft).
3. CN Tower in Toronto, Canada
The CN Tower is a communications and observation tower in Downtown Toronto, Ontario, Canada. Standing 553.33 metres (1,815.4 ft) tall, it was completed in 1976, becoming the world's tallest free-standing structure and world's tallest tower at the time. It held both records for 34 years until the completion of Burj Khalifa and Canton Tower. It remains the tallest free-standing structure in the Western Hemisphere, a signature icon of Toronto's skyline, and a symbol of Canada, attracting more than two million international visitors annually. Its name "CN" originally referred to Canadian National, the railway company that built it. Following the railway's decision to divest non-core freight railway assets, prior to the company's privatisation in 1995, it transferred the structure to the Canada Lands Company, a federal Crown corporation responsible for real estate development. Since the name CN Tower became common in daily usage, the abbreviation was eventually expanded to Canadian National Tower or Canada's National Tower. However, neither of these names is commonly used.
4. Tokyo Tower in Tokyo, Japan
At a height of 332 meters (1092 feet), the Tokyo Tower is the world's tallest self-supporting iron tower. It is 13 metres (42 feet ) taller than the Eiffel Tower in Paris, France. It was constructed between 1957-1958 and has had more than 150 million visitors since then. It has two observation decks, the Main Observatory (150 meters (492 feet)) and the Special Observatory (250 meters (820 feet)), which offer panoramic views of Tokyo and Mount Fuji under good weather conditions.
5. Calgary Tower in Calgary, Canada
The Calgary Tower is a 191 metre (626 feet) free standing observation in Downtown Calgary, Alberta, Canada. Originally called the Husky Tower, it was conceived as a joint venture between Marathon Realty Company Limited and Husky Oil as part of an urban renewal plan and to celebrate Canada's centennial of 1967. It was built at a cost of $3,500,000 and weighs approximately 10,900 tonnes, of which 60% is below ground. It opened to the public on June 30, 1968 as the tallest structure in Calgary, and the tallest in Canada outside of Toronto. It was renamed the Calgary Tower in 1971. The building was a founding member of the World Federation of Great Towers. When Marathon Realty and Husky Oil built their new head offices in Calgary, they proposed building honour Canada's centennial year of 1967 and to encourage urban renewal and growth of the downtown core. The structure was designed by W.G. Milne & A. Dale and Associates, and was designed to withstand earthquakes and winds of up to 161 kilometres per hour (100 mph). Construction began on February 19, 1967, and completed in 15 months at a cost of C$3.5 million. The column was built from an unprecedented continual pour of concrete. Pouring began May 15, 1967 and was completed 24 days later at an average growth of 25 feet (7.6 m) per day, a rate that was praised by industry officials as an "amazing feat of technical and physical workmanship".
6. Space Needle in Seattle, United States
The Space Needle is a tower in Seattle, Washington and is a major landmark of the Pacific Northwest region of the United States and a symbol of Seattle. Located at the Seattle Center, it was built for the 1962 World's Fair, during which time nearly 20,000 people a day used the elevators, with over 2.3 million visitors in all for the World Fair. The Space Needle is 605 feet (184 m) high at its highest point and 138 feet (42 m) wide at its widest point and weighs 9,550 tons. When it was completed it was the tallest structure west of the Mississippi River. It is built to withstand winds of up to 200 miles per hour (89 m/s) and earthquakes of up to 9.1 magnitude, which would protect the structure against an earthquake as powerful as the 1700 Cascadia earthquake. It also has 25 lightning rods on its roof to prevent lightning damage. The Space Needle features an observation deck at 520 feet (160 m), and a gift shop with the rotating Sky City restaurant at 500 feet (150 m). From the top of the Needle, one can see not only the Downtown Seattle skyline, but also the Olympic and Cascade Mountains, Mount Rainier, Mount Baker, Elliott Bay and surrounding islands. Photographs of the Seattle skyline often show the Space Needle in a prominent position, even appearing  above the rest of the city's skyscrapers, as well as Mount Rainier in the background. This occurs because the tower, which is equivalent in height to a 60-story building, stands more than a kilometre northwest of most downtown skyscrapers. Buy Tickets To Space Needle.
7. Torre del Oro in Seville, Spain
Constructed at the end of the reign of the Taifa Kings in the first half of the 13th century. It had a thick chain capable of blocking the river and it is believed to have been used for sealing the entrance to the port. It was covered with tiles in the past and it is believed that its name(which means 'Gold Tower' in Spanish) derives from that. Others believe the name came from its use during the time of Christian monarchs, when gold from the Americas was transported off the ships and stored there. There is still a dispute as to why the it was called the 'Gold Tower'.
8. Sky Tower in Auckland, New Zealand
Sky Tower is a 328 metre (1,076 ft) tall observation and telecommunications tower built between 1994-1997. The 2,000 ton tower is the tallest free-standing structure in the Southern Hemisphere, it is also a member of the World Federation of Great Towers. The top of the tower offers an observation range of 82 km on a clear day. It attracts over 1 million visitors each year. Just like many popular towers, the Sky Tower has a revolving restaurant. The restaurant, called Orbit, revolves 360 degrees every hour. It offers adventure activities such as 'SkyWalk' and 'SkyJump'.
9. Skylon Tower in Niagara Falls, Canada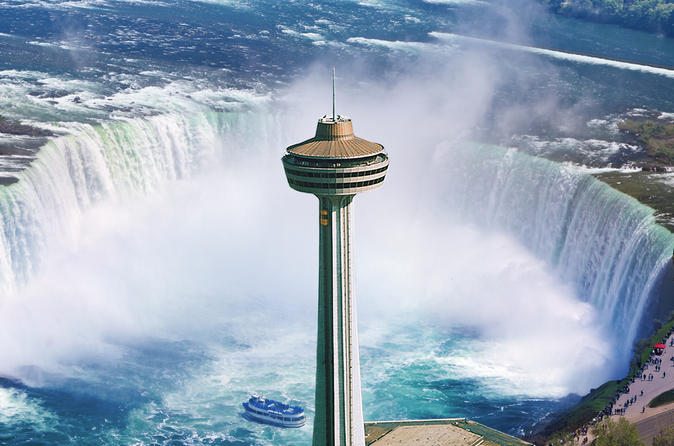 The Skylon Tower is a 520 ft/160 m tall tower built in 1964. The proximity of the tower to the border meant that special permission had to be obtained both from Canadian and U.S. authorities before construction commenced. The tower stands at 775 feet/236 metres above the base of the falls and is the tallest structure in Niagara Falls. It has two restaurants, a Revolving Dining Room and the Summit Suite Dining Room, a shopping centre and a large amusement arcade. Visitors can see up to 80 miles ( 100 kilometres) from the observation deck on a clear day.
10. Belem Tower in Lisbon, Portugal
Belem Tower known as Torre de Belm in Portuguese was built in 1515 as a fortress to guard the entrance to Lisbon's harbor. It was built between 1515-1521 by Francisco de Arruda under the orders of King John II, King John II later died before completion of the structure. The Belem Tower ceased its function as a fortress in 1580 when the Spanish soldiers invaded the city of Lisbon. The four story 35 m high became a political prison at that time, when Philip II of Spain was the king of Portugal. This structure is a UNESCO World Heritage Site, it is also the most well known attraction in Lisbon.