1. Wiener Schnitzel at KaDeWe
When it comes to Wiener Schnitzel, probably every German has a strong opinion on where you can get the best one. But believe me when I tell you that the best Wiener Schnitzel in Berlin is by far the one they serve in the food court at KaDeWe. Every time I've been there with anybody, after the meal they agreed that this Wiener Schnitzel is the best of the best. The chefs prepare the food right in front of your eyes, so you can see how much love and effort they put into it. The meat is thinly sliced (but not too thin) and the breadcrumbs (panade) will just blow your mind. The panade probably sets this Wiener Schnitzel apart from any other Wiener Schnitzel in Berlin ' nay, in the world. They use a very special oil to cook the Wiener Schnitzel, and the side dishes, such as the fresh salad, are also spectacular.
2. Mustafas Gem¼sedöner
Mustafas Döner is the best döner in the whole wide world. But how do they manage to keep quality and the buzz that high
Well, first of all, their chicken meat is thinly sliced and spiced with a secret sauce before they stuff it in your grilled döner bread, together with a mix of deep fried potatoes, peppers and carrots. On top of this, they add some fresh cabbage, onions, sheep's cheese and a sprinkle of lemon that gives Mustafas that ultimate little touch. And even if you are on a low budget, you will always have money for a Mustafas, as they have not used their fame to cash in (although they must make a fortune with this one Döner-Bude),'  keeping their prices reasonably low.
3. Rodizio at Villa Rodizio
A rodizio is the perfect way to sample the Brazilian art of' barbecuing. While you are comfortably sat at your table, waiters show up with lots and lots of meats on sticks that come freshly from the grill and are sliced onto your plate. Meats usually include goodies like Picanha (best piece of meat, together with filet of course), honey dipped chicken, bacon wrapped chicken, chicken hearts (at least sometimes), spicy chorizo, lamb, pork, pork ribs, and usually one or two surprise meat selections.A special tip is to get to the Villa Rodizio early as they offer cocktail happy hours before 8pm, so you can save some money on the first (of many) Caipirinhas.
4. Temmener Queen Filet at Grill Royal
If you want to eat the best steak in Berlin (which comes close to the steaks in Argentina), then Grill Royal is the place to go. That being said, Grill Royal is the best choice if you love a good steak and have the hefty wallet to go with your good taste, as the Grill Royal is one of the upscale and classier restaurants in Berlin. Chances are high that at one of the tables next to yours there will be some local or international celebrity chewing on their meat and drinking some wine.
5. Quesadillas at Maria Bonita
If you are fed up with all the fake Mexican food and Tex-Mex joints, then you have to pay Maria Bonita a visit. Incredibly tasty tacos, burritos and quesadillas are sure to fulfill all your Mexican food dreams. But don't be loco and greedy and order all of them in one go, as they will fill you up very quickly. It's better just to get the Quesadilla de Pollo (or without pollo if you don't eat chicken), take two or three little cups of Maria Bonita's spicy sauces, and don't forget to go totally Mexican by squeezing lots of lime over your food before you enjoy some of the tastiest quesadillas outside of Mexico. For even more information keep on reading about Maria Bonita in Berlin.
6. DaDa-Teller at DaDa Falafel
DaDa-Teller at DaDa Falafel. What's so special about it? Well you will have a hard time finding other falafel places where they use beef for their Schawarma, mixed with Lamb bacon. Also, their falafel is just perfectly prepared and incredibly tasty, their sauces range from mild yoghurt to spicy chili, and the bread is just the right taste and texture. As you might have guessed already, the DaDa-Teller combines all of DaDa's best dishes on just one plate. Fast, tasty and an incredibly good bargain ' this is DaDa Falafel.
7.Bockwurst: Curry 36
In Germany, you're probably going to want to eat your weight in wursts, and in Berlin that means a bockwurst, invented in 1889 by a local restaurant owner who added pork to the classic veal bratwurst mix. Today bockwurst is made using a whole zoo's-worth of meats, incl. pork, lamb, chicken & turkey, and there's even a fish-only version. You'll find them at most biergartens & currywurst stands incl. Curry 36; do it right and eat your bockwurst w/ a bock beer.
8.Senfeier: Kantine
A classic grandmother dish, 'senfeier,' or "mustard eggs" is as simple as it gets — hard-boiled eggs served with mashed spuds and covered in a creamy mustard sauce. Doesn't sound appealing? Well the dish is a childhood throwback along the lines of PB&J for Berliners, and you'll find it everywhere from lunch canteens like Kantine to Chef Tim Raue's modern interpretation (w/ a poached egg!) at La Soupe Populaire.
9.' Eisbein (Pork Knuckle): Zur Letzten Instanz
In Berlin, the oinktastic dish is called 'eisbein,' or "ice leg" (oh-kay), and it's boiled or steamed for several hours, usually in sauerkraut, giving it a nice pink glow. The dish is generally served with potatoes and Berliners also eat it with pea puree. Try it out at the city's oldest restaurant, Zur Letzten Instanz, which opened in 1621, and has supposedly since served Napoleon, French prez Jacques Chirac & Jack Nicholson.
10.' Königsberger Klopse: Max und Moritz
These meatballs, named after the Prussian city they come from, are much-loved for their sauce; a creamy mixture of capers and lemon. They are always served w/ mashed or boiled potatoes or rice and are dee-lii-cious. Get a taste at the Berlin classic resto Max und Moritz, where you can also gnaw away on eisbein.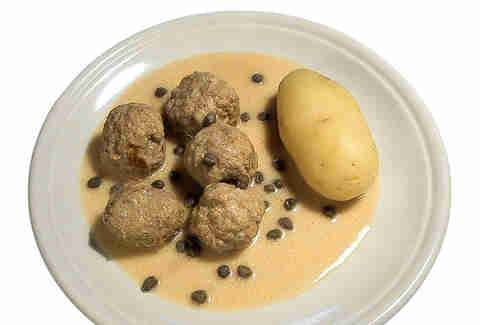 11.Berliner/Pfannkuchen: Bckerei Siebert
The word 'Berliner' means donut — specifically the jelly-filled variety — but in Berlin they call them 'pfannkuchen', which means pancake everywhere else in Germany. Confused yet? On NYE, Berliners have this great tradition of putting one mustard-filled donut in the pile of jellies; the lucky recipient supposedly gets good luck for the year. The old-school Bckerei Siebert is the place to get all the delicious, and non-mustard, flavors.