1. Rogan Josh
A must try dish for all the Lamb or meat lovers, Rogan Josh, an aromatic lamb dish is one of the signature' recipes of Kashmiri cuisine. It was introduced in India with the coming of the Mughals. Robust with flavours of browned onions, various' spices and yoghurt, it is a very healthy low-fat dish. Try it with rice or naan and you will yearn for more.

2. Yakhni or Yoghurt Lamb Curry
If you wish to taste an' authentic Kashmiri delicacy,' then you must taste Yakhni which'  is'  lamb cooked in yoghurt based gravy. Yakhni is flavoured with' mawal' flowers, black and green cardamoms, onion paste and dry mint leaves with aromatic fennel seeds. Have it with well cooked rice to enjoy the true flavour of this mouthwatering Kashmiri dish.

3. Dum Olav
While most of the' Kashmiri cuisine dishes' are non-vegetarian, there is something very special prepared with potatoes for the pure veggies. Dum Olav or Dum Aaloo, one of the most' famous dishes of Kashmiri food. Dum Aaloo' is cooked with yoghurt, ginger powder, fennel and other hot spices to give it a unique flavour and aroma. You can have it with chapatis or naan to get the most out of this all time favourite and popular Kashmiri cuisine dish.

4. Matschgand
Let the aroma of' Kashmiri cuisine' seduce your taste buds. Again a dish for the meat eaters, go ahead and ttry Matschgand if you wish to see the gluttony side of your personality!' Matschgand is actually a dish of minced meatballs' which is cooked in spicy red gravy. And it indeed is a dish which can totally seduce your taste buds!

5. Kashmiri Muji Gaad
Served on festivals and occasions, Kashmir gaad is a dish made up of fish prepared generally with radish or nadur. This dish is an amalgamation of vegetarian and non-vegetarian items as the taste of fish and lotus stem blend together to give it a unique taste while hot spices and herbs add to it's unique yet amazing flavour and aroma. This dish is usually served in/during' festivals like 'Gaada Bata' in the month of December.
6. Aab Gosht
If you are a' mutton lover' then you will love Kashmiri food. Mutton is' one of the major items used in the everydayfood of the Kashmiri people' and you can find almost 30 varieties of Mutton dishes in Kashmiri food. Among the many mutton dishes one of the most popular is Aab gosht. It can be made in two ways either Kashmiri or Iranian. The Kashmiri dish is made using milk and several spices including cardamom and black pepper. Yummy!

7. Goshtaba
A' traditional delicacy of Kashmir, Goshatba is minced mutton cooked in flavorful yogurt gravy and spices. This dish is prepared on royal occasions and it indeed has a' royal taste' and flavour which can tease you appetite to urge for more. Hence it is popularly known as a 'dish for the Kings'. Don't forget to try these delicious balls on your trip to the heavenly Kashmir!

8. Modur Pulav
Modhur Pulav is the name given to sweetened' Kashmiri rice' prepared using' cinnamon, a little saffron, milk, ghee,
sugar, cashew nuts, almonds, green' cardamom among several other ingredients. This dish is sweet, flavored and healthy with saffron as a main spice which gives it beautiful colour and taste. And this saffron is also grown and in Kashmir itself. The distinctive taste of this pulav is unlike something you've ever tasted before. ' Just taste once and you will be left craving for more.

9. Lyodur Tschaman
Veggies rejoice! Who said Kashmiri food isn't meant for vegetarians?' Here comes another delicacy from the picturesque hills and mountains of Kashmir. And it's meant especially for the ones who are' purely vegetarian. Top favourite among' Kashmiri vegetarians, Lyodur Tschaman is cottage cheese cooked in creamy turmeric based gravy. One of the very few popular vegetarian dishes which are a part of Kashmiri cuisine, Lyodur Tshaman is cooked almost everyday in the Kashmiri households.
10. Momos
Though it's not a dish of Kashmiri origin, momos are one of the super popular things to eat in Kashmir. A Tibetan delicacy, here in Kashmir, they are served in a blend of the original and local influences. Small and spicy momos are dumplings stuffed with minced meat, vegetables or cheese. Usually served with spicy sauce, momos is one of the most' favorite dish' of people across North India. If you have never tried these mouth-watering dumplings ever then here is the call for you!

11. Thukpa
Another' famous dish from Leh region' which is popular across many regions of India, Thukpa is a thick noodle-based soup with vegetables, if you love noodles and you love soup too then it's a delight for you. Again, it's also not a Kashmiri dish, but merely one which is extremely popular in Kashmir. It's origin can be traced to the Eastern part of Tibet, but has become quite a fad in several parts of the Indian subcontinent. Eat to your heart's content!

12. Herbal Tea
The land of monks and monasteries, Ladakh serves you with the best herbal tea prepared using fresh green tea leaves, salt and butter. Served by monks with full faith and prayers, the herbal tea helps people bear the chilling cold and also has numerous other health benifits. If you like to try new and different variants of tea, then you must try it so as to'  keep yourself warm in the chilly days and nights of Leh!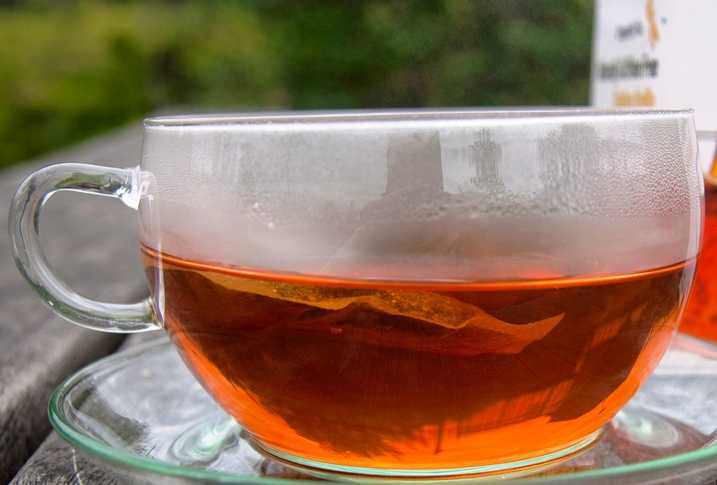 13. Skyu
Skyu is not only the' traditional dish of Leh' but it is also loved by the local people so much so that they like to have it almost everyday. Skyu is thumb sized small pieces of wheat flour or aata, ' cooked in sufficient quantity of water. It's almost like the staple food dish of the people of Ladakh. Taste it with meat and vegetables and you will hail Ladakh for this amazing dish.

14. Khambir and Butter Tea
If you wish to try something' unique in Ladakh' then Khambir with butter tea is what we would' suggest! Khambir is a pan shaped local bread with a thick crust made from local whole wheat and it is served with butter tea which is prepared by adding salt and butter to tea, which is yet again another distinctive speciality of Ladakh.
15. Thenthuk
thenthuk is yet another' noodle soup dish from the region of Leh!' Thenthuk' is a noodle soup prepared with wheat flour dough, mixed vegetables, and some pieces of mutton or Yak meat are addded to enhance it's taste and value. Well, if you think it's something like Thukpa then you are surely mistaken as in Thenduk uneven pieces of'  noodles are mixed with wheat flour dough. It's a very filling dish and is hence usually served either for lunch or dinner. Let your tongue feel the difference!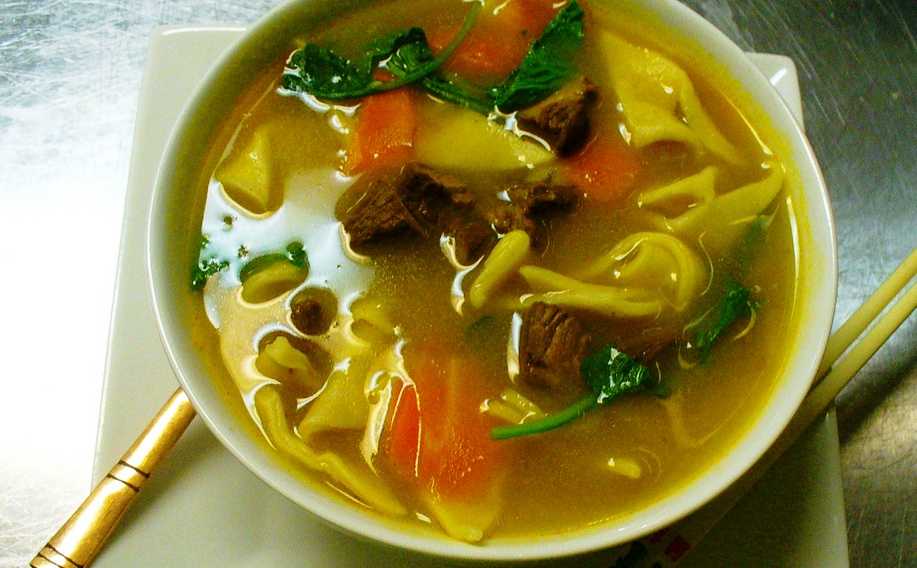 16. Butter Tea
All the tea lovers, set your eyes here and don't forget to taste the famous' Tibetan Butter tea' and even if you forget, you will be reminded right there as Butter tea is an essential part of Tibetan life. It is prepared by adding butter and salt to tea, sometimes pieces of yak meat are also added to it! Have it the way you like. It's an important part of the Kashmiri food cuisine, especially in the colder areas of Leh and Ladakh.