Assam Laksa (Rice Noodles in Fishy Soup)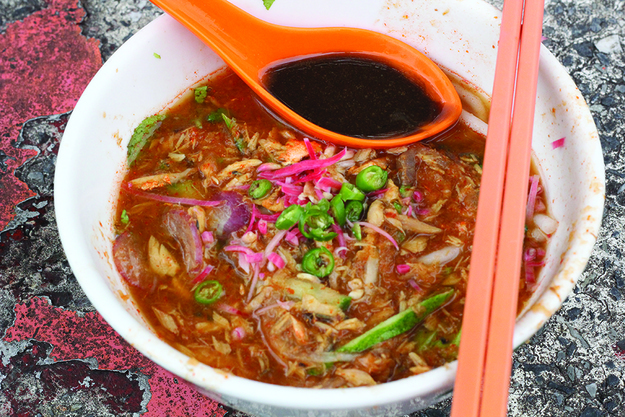 This is assam laksa from a stall on Weld Quay, a busy waterfront street in George Town. It is my favorite food in the whole world: rice noodles in a fishy soup soured with tamarind. The pink things are ginger flowers; the green things are bird's-eye chilies and cucumber matchsticks. At this particular stall, you're seated just a few feet from traffic; motorcyclists will ride right up and order their laksa to go.
Rojak (Fruit and Vegetable Salad)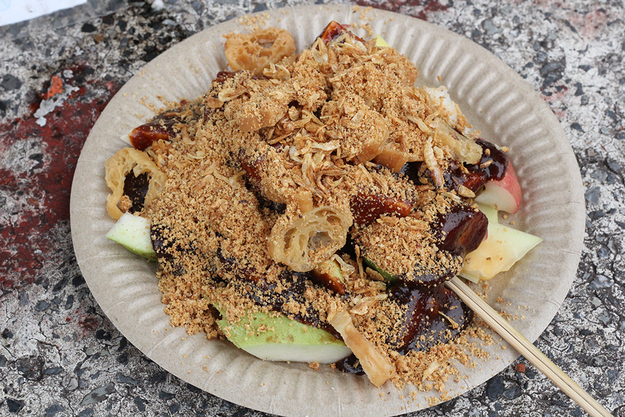 Here's rojak: a plate of cut-up fruit and other miscellany (sometimes squid! sometimes little fried pieces of dough!) with a bunch of brown-black savory-sweet sauce dumped all over it. This sauce is a mystery to me; all I know is that it has shrimp paste in it. If shrimp paste on top of fruit sounds insane to you, it does to me, too. Here's the thing, though: IT IS TREMENDOUSLY DELICIOUS.
Roti Canai (Flatbread)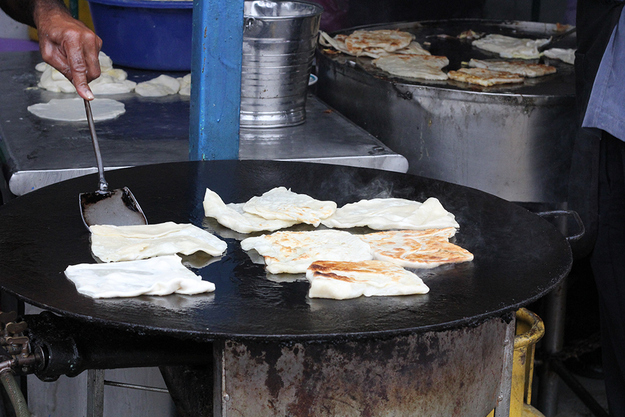 The line between restaurant and street food gets fuzzy here. The roti canai stand on Jalan Transfer is as street as street food gets, but there's also a row of stools and vinyl-tableclothed tables in case you'd like to dine in. An assembly line of guys with fun eighties-era hairdos form the roti canai, a flat, flaky bread that's most often eaten dipped into curry for breakfast. One guy is twisting and slapping and layering the dough with ghee; others cook the bread on a wok. A couple guys are tending to the truly massive drums of curry. Add a little glass mug of hot Nescafé — stir to incorporate the centimeter or so of condensed milk that's hanging out at the bottom— for a complete Penang breakfast.
Chendul/Cendol (Cold Dessert Soup)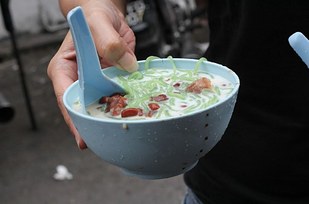 You can find chendul/cendol, a sort of cold dessert soup, on Penang Road, a tiny road just large enough for a single car to drive slowly through. Chendul refers to the green Jello-ish squiggles, made from mung-bean flour and stained green with pandan, the leaves of a tropical plant that taste sort of like vanilla. The squiggles, along with red beans, float in a soup of santan, coconut milk, and palm sugar. The soup is ladled over a big lump of ice, and condensed milk goes all over that. It's served with a spoon but the spoon is unnecessary.
Apom Balik (Stuffed Pancake)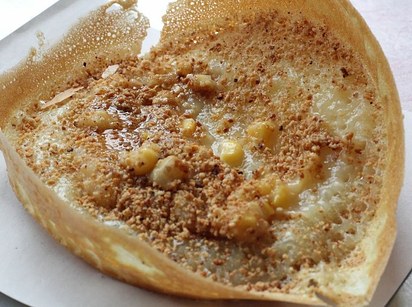 Apom balik is a sticky rice-flour pancake with creamed corn(!) inside. This vendor at Tan Jetty spoons corn straight from the can into the cooking batter—eggy and fluffy—then deftly extricates the whole thing and folds it over like a loose taco, a shape that makes it possible to get both crispy edge and sticky interior in a single bite.
Batu Maung Satay (Grilled Meat on Skewers)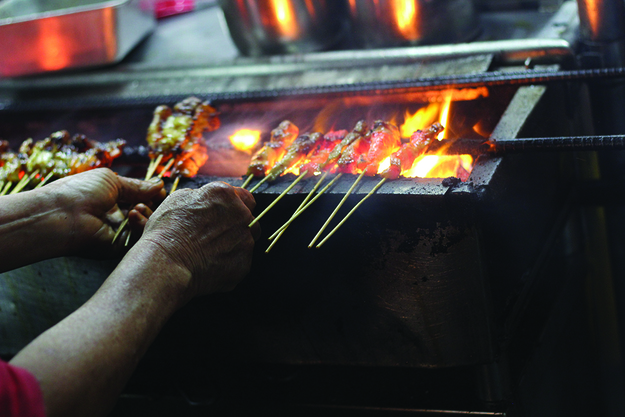 At night, little lanes like Lorong Baru are dense with hawker stalls. Here, Batu Maung satay — marinated pieces of chicken, pork, or beef on bamboo skewers — are grilled, and served with cucumber chunks and raw white onion for spearing according to your preference. Not included: the goopy peanut sauce that comes on the side of every order of satay in America, because the meat's already been sauced.
Koay Chiap (Duck and Noodle Soup)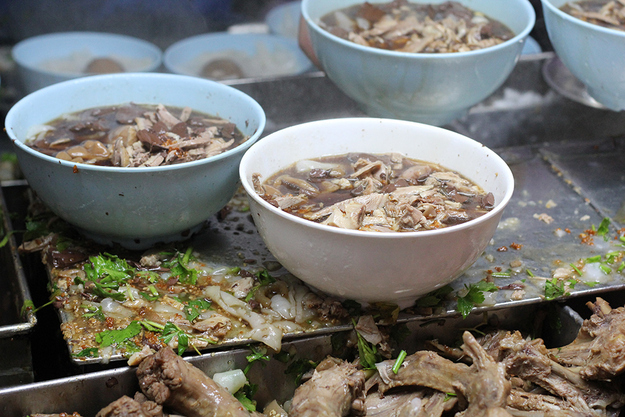 Kimberly Street is sleepy in the daytime but, like the nocturnal stink badger of western Malaysia, active at night. The most bustle surrounds two dudes in backward hats and aprons at a stand dishing out koay chiap, an offal-y dark soup of duck meat shreds, gizzards, coagulated blood, a soy-sauce-boiled egg, and curled-up scrolls of rice noodles. Chinese celery bits imbue a nice herbiness.
Chee Cheong Fun (Rice-Noodle Rolls)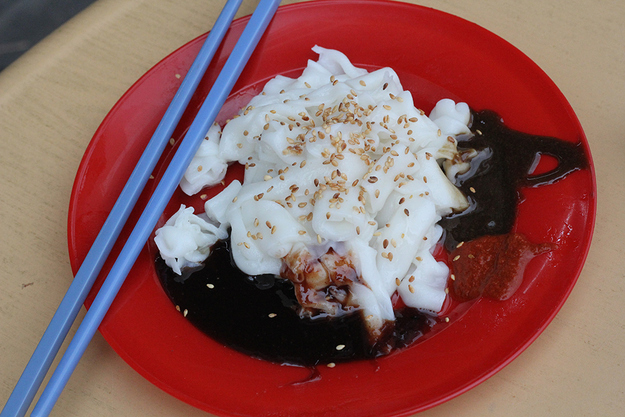 This is chee cheong fun, which is similar to the rice-noodle rolls you get stateside at dim sum restaurants, but not quite the same. In Penang, it comes with a little bit of chili sauce and a black, sweet, shrimpy sauce that's gluey with maltose.
Café Drinks: Nescafé and Milo (Coffee and Chocolate Malted Beverage)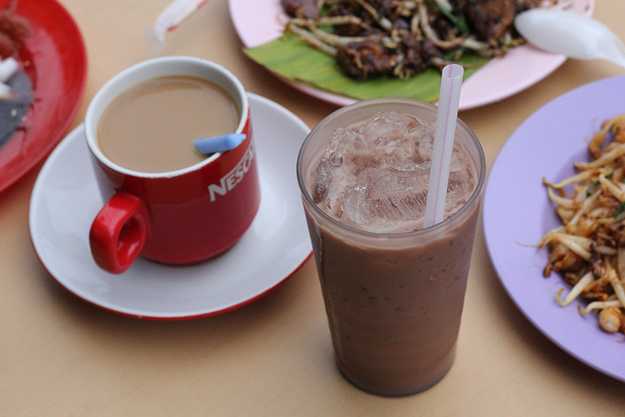 If you're sitting in a kopi tiam, someone will come to you and ask what you'd like to drink. Most drinks will have condensed milk in them, because that's how they roll here. If you want caffeine, your best bet is Nescafé or Nescafé ice (on the left), which is coffee (sort of), super-sweetened with condensed milk. If you're looking for a beloved chocolate malted beverage of Eurasia, there is Milo or Milo ice (on the right), also sweetened with condensed milk. A Michael Jackson, A.K.A. soya cincau, is black and white because it's soy milk with little strands of grass jelly sunken at the bottom.
Koay Teow Th'ng (Sweet Noodle Soup with Meat and Fish Balls)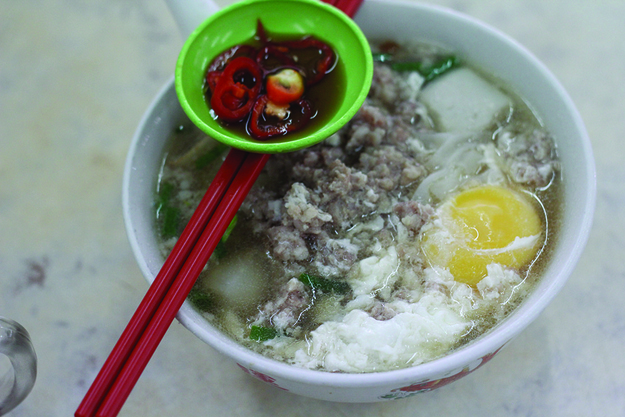 The most popular stall is run by the Angs (Ah Tee, Ai Tin, Phaik See, and Chia Hao), a family who has, for thirty years, been serving koay teow th'ng, a bowl of sweet thin noodles in pork-bone broth, topped with ground pork, fish balls, and a whole egg yolk that you have the option of stirring into the soup or scooping straight into your mouth.
Lok Lok (Hot Pot)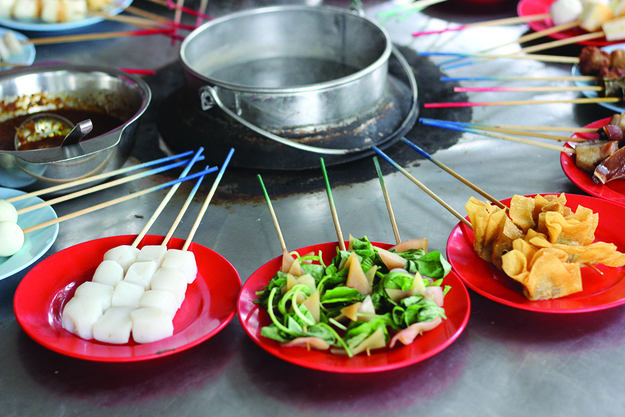 Padang Brown is one of Penang's older hawker centers; around since the sixties, it comprises two very long rows of stalls, shaped like a laurel of wheat. It's outdoors, but the stalls and many, many tables are covered; unlike street vendors, these sellers have permanent spots rather than roll-away carts. In the middle of Padang Brown, between the opposing curved rows, there's a playground and a memorial to David Brown, a Scotsman and Penang landowner and namesake of the place.
Here you can get lok lok, which means "dip dip." There's a boiling hot pot in the center of your table that you lower sticks of stuff (vegetables, tofu, seafood) into; the stick colors indicate price, and at the end of the meal your sticks are tallied and you're charged accordingly.
Ice Kacang (Corn-Bean Frozen Dessert)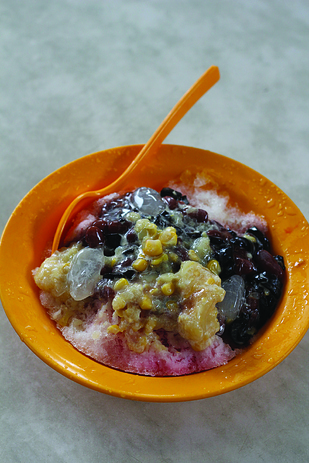 Lee Eng Lai is sixty-three and sells ice kacang here. His family has sold ice kacang on Swatow Lane since 1923; they relocated to New World Park when it opened in 2008. The recipe is the same as it always was, but now they have an electric ice-shaving machine. Ice kacang is kind of like a banana split, but in place of bananas there's corn, kidney beans, and mysterious translucent toothsome jellies. And instead of ice cream there's shaved ice, topped with a pink syrup that just tastes pink, not in a synesthetic way, but like you'd imagine — like bubble gum. And there's also, of course, condensed milk all over everything. If you want to gild the kacang, you can add a scoop of ice cream on top of all that.
Nasi Lemak (Rice Cooked in Coconut Milk)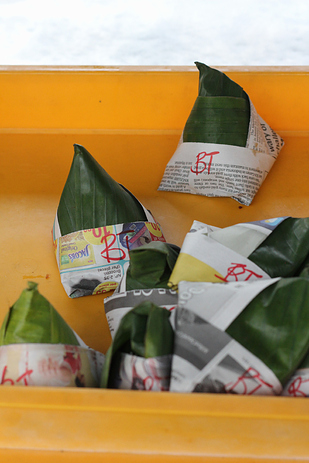 Lim Gaik Nai, 56, is a mother of four who's been selling chee cheong fun, nasi lemak, and other snacks here for about five or six years (before this, she used to have a pig farm). Nasi lemak is a Malaysian breakfast dish that comes wrapped up in a banana-leaf package: fried anchovies in shrimp paste and chili sauce, with rice cooked in coconut milk, a hard-boiled egg, cucumbers. She doesn't make what she sells; she gathers the components from distributors and steams the things that need steaming before serving.
Char Kuey Teow (Stir-Fried Noodles)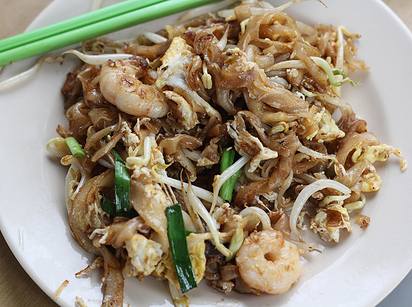 Lai Saw Giak, 46, has been selling char kuey teow here for five years. For about one U.S. dollar you get a plate of thin, delicate, spicy-salty noodles cooked in lard and topped with eggs, prawns, cockles, chives, and bean sprouts. She buys her noodles from a noodle man who visits every morning; most of the other noodle vendors on this street do, too. Lai used to be a housewife, but her friends liked her cooking and encouraged her to set up shop. Somebody else had been selling char kuey teow on Jalan Pantai Jerjak before her, and when that hawker left, the café owners asked if she'd replace him. That's how it goes here: you can't just show up and set up your cart (duplicate carts—two char kuey teow carts, for example—aren't allowed); you have to be asked. She gets here at five forty-five in the morning with lots already prepped, including prawns peeled and sauce concocted; she sells until four thirty p.m. and is done cleaning up by six thirty.
Hokkien Mee (Egg and Rice Noodles in Spicy Soup)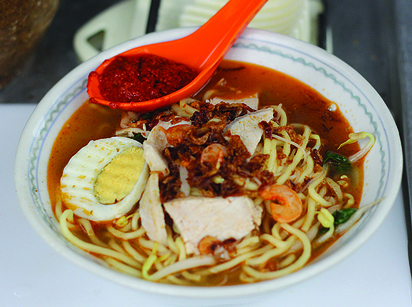 At six thirty in the morning, Oon Aik Lam, 48, arrives to sell hokkien mee (also known as ha mee). Two kinds of noodles go into a bowl of broth — egg noodles and rice vermicelli — then kang kong (sometimes called "water spinach" or "hollow-heart vegetable"), prawn halves, bean sprouts, slices of pork, and hard-boiled egg follow. It's finished with a soup spoon of homemade chili. Oon's father makes the stock with prawns, salt, sugar, chili, pork bones, and other things he doesn't know about, he says, because the recipe is secret and his father, who's been cooking it for more than thirty years, has still never taught him. Oon has one big pot of his dad's secret broth that he ladles out until it's gone, then he packs up and pedals away.
Wonton (Wan Tan) Mee (Noodle Soup with Dumplings)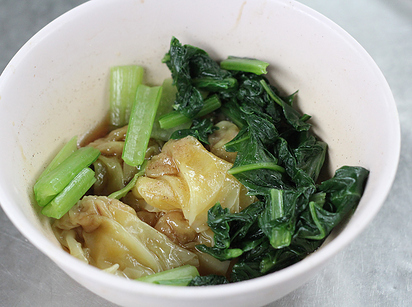 Yap Siew Ean sells wonton mee: noodles tossed in black sauce, served with wontons, and topped with a little bit of a choy and hot pink char siu (roast pork), with pickled chilies on the side. (You can also buy just the wontons: ten wontons in a bowl of pork-bone broth.) She started helping her dad out when she was little — her dad bought the cart she still uses forty-two years ago, when she was born — and learned how to cook from him (he learned from her grandmother). She buys the char siu and noodles ready-made but makes the broth, sauce, pickled chilies, and wontons (pork, shrimp, pepper) herself. She talks about "original" taste — that these noodles are in the same tradition of her father's. Her family's been here longer than the owners of the coffee shop and they've watched the business change hands. The building itself — with the coffee shop — hasn't been around forever; before the storefronts and coffee shop existed, she says, her family sold wonton mee from the side of road.
Bak Kua Bread (Dried Pork Subs)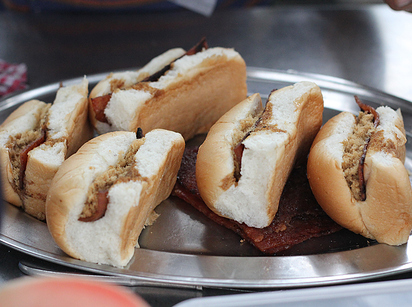 Chow Sow Peng, 56, was a housewife before she started selling here five years ago. Her signature snack is a bak kua bread, a fluffy, chewy, salty, sweet snack. She combines strips of bak kua — sweet Chinese pork jerky — and pork floss (fluffy, woollen dried pork that looks like something you could knit a sweater from) in a steamed hot-doggish bun, then drizzles a sweet homemade sauce over all.
Otak Otak (Fish Cakes)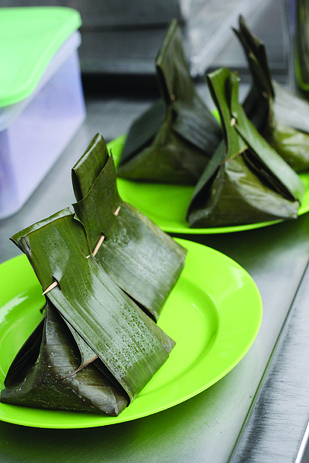 There used to be, right next to this stall, a curry noodle stand belonging to her husband, Tony Ooi Hock Lai, 59. But curry noodles got to be too hard—there's a lot to prep—and when her mother-in-law passed away and nobody was around to help, the two of them decided to give up the curry stall and focus on bak kua bread instead. They get all the ingredients from a market or from another distributor and don't need to prepare anything from scratch except the sauce, which is made from a broth made of pork bones, plus dark Chinese soy sauce, regular soy sauce, sugar, and Ajinomoto (MSG).
Economy Bee Hoon (Rice Noodles in Black Sauce) and Mock Duck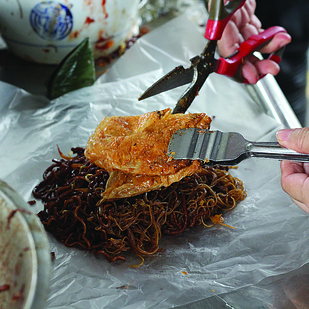 Serene Yeap Saw Phin, 45, and Tan Joon Ngin, 51, are a married couple who've been selling economy bee hoon (there's no meat, so it's really cheap, hence the "economy") together for eleven years. It's basically thin vermicelli (there's also a wider noodle for those who prefer it) cooked in a sweet black sauce, tossed with bean sprouts and sweet homemade pickled chilies. They sell from around six in the morning until they run out—usually early, around one or two—with him cooking and her plating and bagging. The wok's behind their stand and he'll cook up noodles, one big batch at a time. Into the wok go Ajinomoto crystals, ladles of mysterious black sauces, bean sprouts, crispy wonton skins, mock duck (made out of soy-something and cornstarch and a whiff of sesame), and sweet-and-sour chili sauce with the pickled chilies.
Kuih Kosui (Glutinous Rice and Coconut Dessert)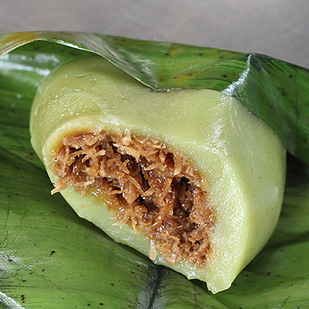 Phin and Ngin also sell these bite-size green banana-leaf-wrapped things called kuih kosui: inside the banana leaf there's a layer of pillowy glutinous rice dough wrapped around a filling of furry, shredded coconut stir-fried with brown sugar and pandan.
Mee Goreng (Soft Noodles Served with Lettuce)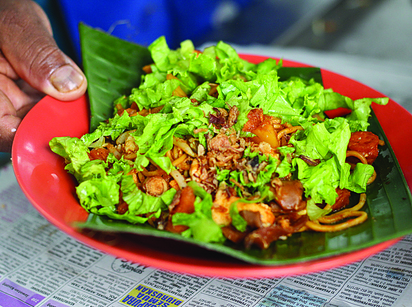 Mohamed Abu Backer Bin Abdul Rahim, 51, sells mee goreng, soft, spaghetti-size noodles wok-fried with lots of fixings. The noodles are garlicky and gingery and a little tomato-y, cooked with chili (it's spicy but not overly so), potatoes, eggs, some bean sprouts, and other secret ingredients. Behind his stall are tables and chairs for customers to drink and eat. If you're eating there, the noodles are served on a banana leaf and garnished with bits of green leaf lettuce and fried shallots.
Roast Chicken Rice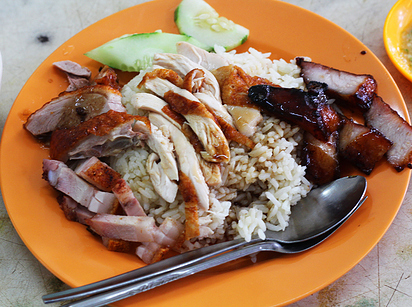 Roast chicken is the popular thing here: on weekends Cheng Siw Lee, 65, and her son, Poh Soon Ping, 44, sell thirty chickens a day (weekdays they'll go through twenty-two). The chicken (and/or duck and/or pork) comes chopped up and drizzled with soy-saucey gravy—each piece of chicken has a little flap of crispy skin on it—and piled atop a mound of rice that's fluffy and delicious because it's been cooked in oil and butter. A little ginger scallion sauce and some cucumber slices ride alongside. Each order also comes with a soup that's made from the carcasses of the roasted meats and boiled with mustard greens and chili—sour and spicy and nourishing.
Char Hor Fun, Char Koay Kak (Noodle dishes)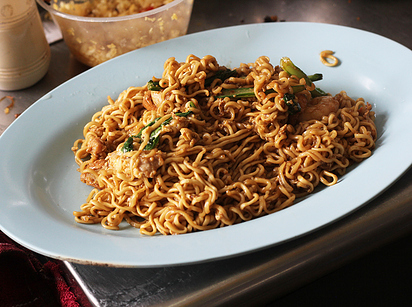 Ung Toon Keat, 52, sells salty and rich wok-fried comfort foods — fried rice and various kinds of fried noodles. He's been doing this for five years now and was working construction before this. This stall belonged to his son before, but his son did if for half a year and quit.
(More) Koay Teow Th'ng (Egg and Rice Noodles in Meaty Soup)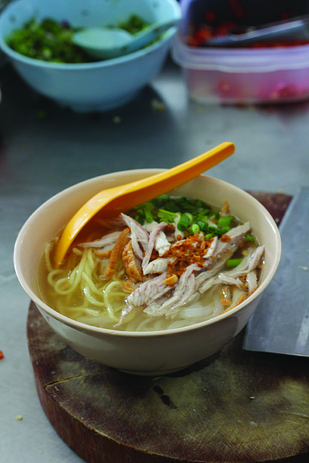 Ooi Sian Heang, 57, and her son Thor Chun Keat, 19, have been selling noodle soups together for two years. It's a combo of silky rice and sturdier egg noodles in a chicken-and-pork broth with shreds of chicken, sliced fish cake, scallions, and a scattering of fried garlic on top.