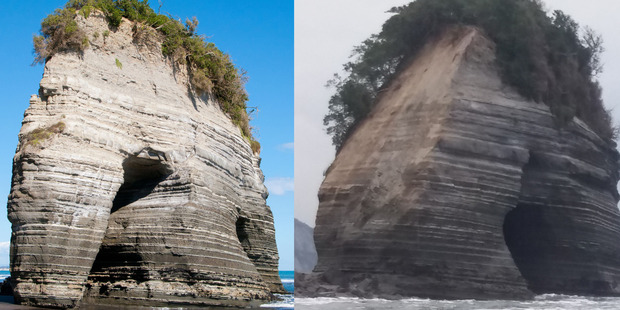 A piece of an iconic North Taranaki rock formation – Elephant Rock in New Zealand has lost its trunk.
It sits near another renowned rock formation – the Three Sisters – at Tongaporutu, south of Mokau, just off State Highway 3. The rock is about 400 m from the view of Tongaporutu resident Mike Brown who looks out at the landmark from his lounge window. Brown said it had definitely suffered damage to its trunk.
"It's quite a big rock, it's in the shape of an elephant, you've got its back, its hind legs and front legs and you've got its trunk which is right out the front and comes down to the ground and the trunk has fallen off, so it's lost its elephant look.
"A week or two ago it was fine and I would speculate that it may have suffered in that [7.8] earthquake because we felt that quite strongly here.
"The Kaikura quake was very severe here too, so that could account for shaking the rock loose."
It was blow for the visitors who come to see the rock, along with the locals who adored it, she said.
"Then alongside that, Elephant Rock in New Zealand has been really taking a light of its own, and there's probably been as much interest in Elephant Rock as there has been in the Three Sisters because it's such an iconic rock and such a beautiful elephant shape.