Oranges (and pretty much all tropical fruit)
Of course we love our Florida orange juice, but all kinds of tropical fruit are everywhere here, in our yards, our desserts and our mixed drinks. Smoothie places and juice bars are very popular, too, so you never have to look far for your daily servings of fruity goodness.
Ice Cream
It's just too darn hot here not to love ice cream. We've really perfected the art of making ice cream, and you can get it pretty much any way you like it here. Can't help you with the whole melting the second you step outside thing, though.
Frozen Yogurt
Fro Yo is so huge here, it seems like it may be getting even more popular than ice cream. You'll also see lots of Italian ice, snow cones and good old fashioned slurpee's, anything to stay cool!
Cubano (Cuban sandwich)
A Cubano consists of slow-roasted pork, ham, Swiss cheese, pickles and mustard, on Cuban bread and pressed to perfection. It is, for my money, one of the best sandwiches ever invented. You can find a Cuban sandwich in almost any sub or sandwich shop here, but the best and most authentic ones are found in Miami and Tampa.
Margaritas
A margarita traditionally consists of tequila, triple sec, lime or lemon juice, served on the rocks or frozen, sometimes with salt on the rim of the glass. We love pretty much any cold treat, and tequila just makes it even better.
Seafood
We love our seafood here, whether it's rolled into sushi or deep fried. Some of our specialties are oysters from Apalachicola Bay, conch fritters and fried gator tail.
Barbecue
Just because we love seafood, doesn't mean we like meat any less. Traditional Southern pit barbecue can be found all over Florida, and almost everyone has a grill in their backyard.
Southern staples (like grits)
Like sweet tea, grits are another Southern favorite in Florida, and they're not just for breakfast. They're delicious with shrimp or fish, or even in grits pie.
Mojitos
The mojito, which also originated in Cuba, is made with white rum, lime juice, sugar, mint and club soda. It's popular all over Florida because it's so refreshing in hot weather.
Caribbean food
You don't have to look far to in Florida to find a tiny, locally owned restaurant with authentic oxtail or curry goat dishes.
Strawberry shortcake
Plant City, FL, is known as the winter strawberry capital of the world, so strawberries are pretty easy to find here. Grocery stores always have little shortcakes stocked near the strawberries so you can make this super simple classic dessert.
Key lime pie
Key lime pie was invented in Florida, and we're happy to take the credit. It's actually really easy to make, so go out and try it if you never have. Your taste buds will thank you.
Fish Tacos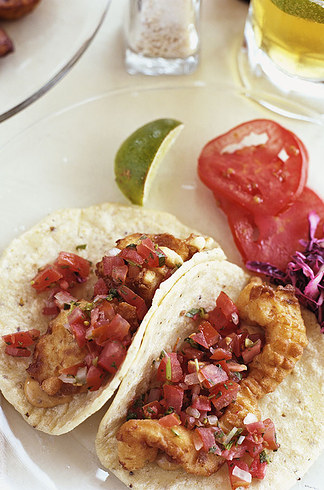 Florida has so many delicious fish + dressing + salsa combos. Is it even possible to pick a favorite? You're definitely going to need a beer to wash these down.