Belgian fries
Moo Frites
Kensington
Fresh fries are not hard to come by in most cities, Toronto being no exception. But as we all know, not all fries are created equal. The spuds here are fried up Belgian style, meaning they are thick cut, golden, crisp, and fluffy on the inside. For an extra dollar you can get them fried in beef fat, which we highly advise. Oh, and forget plain ketchup, there are 18 different house-made sauces here to dress up your fries with.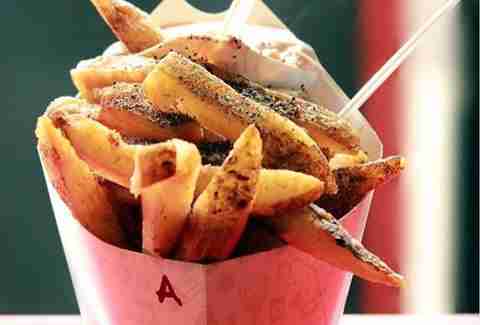 Poutine
Poutini's House of Poutine
Queen West
Poutine wars might not be as feverish here as they are in Montreal, but that doesn't mean Torontonians aren't passionate about their curds. The gravy-and-cheese-laden fries at this tiny take-out spot drew crowds from the get-go. Fries are hand-cut daily and twice-fried before being topped with rich house-made gravy and curds brought in fresh from Maple Dale Farms.
Churros
Pancho's Bakery
Multiple locations
You can never go wrong with the cinnamon and sugar-coated fried dough from Pancho's. Get it filled with dulce de leche for the ultimate sugar high.
Smash bag
Junked Food Co.
Dundas West
What do you get when you take a bag of Doritos and fill it with lettuce, tomato, onion, cheddar, olives, jalape±o, sour cream, and chili sauce? You get a smash bag, and you disregard the promise you made to yourself to finally eat healthy when you dig in. You can also get your smash bag topped with pulled pork, poutine, chicken, or cheddar mac and cheese
Fried chicken and waffles
The Dirty Bird
Kensington
Toronto finally has a place dedicated exclusively to chicken and waffles, and they are happy about it. Purists will want to order the ODB, which gets you a crunchy on the outside, moist on the inside boneless thigh & leg atop a maple buttered waffle and coated with 'dirty sauce', the recipe of which is a secret.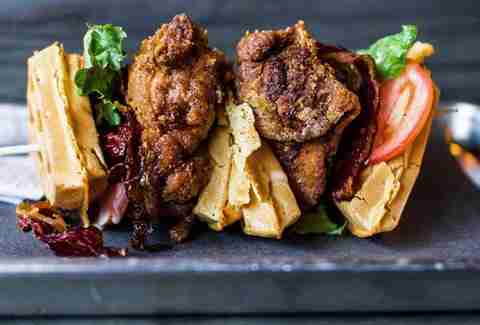 Sesame bagel
St. Urbain
St. Lawrence Market, Eglington West
This is about as close to a Montreal-style bagel as you're going to get without actually going to Montreal. They're crisp on the outside, dense and chewy on the inside and perfect with a schmear of cream cheese.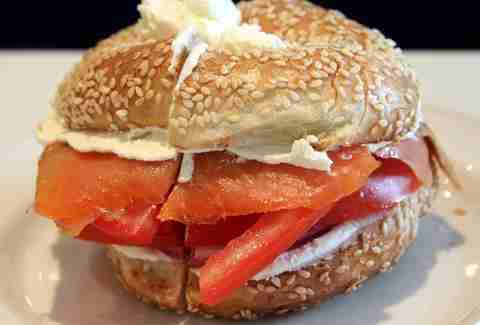 Paella Del Carmen
Carmen
Queen West
Shrimp, clams, mussels, chorizo, chicken and saffron come together in a perfect marriage of flavours and textures in Carmen's signature paella. Order when you arrive, this baby takes upwards of 40 minutes to get to your table, sip sangria and then get ready to sit back and enjoy a taste of Spain.
Raspberry macaron
Bobbette & Belle
Queen East
Bobbette & Belle macarons are renowned for a reason. They're light, fluffy, and full of flavour no matter which one you get your hands on. But there's something about the slight tartness of the raspberry that perfectly balances the sweetness of the delicate shell.
Buffalo cauliflower
Home of the Brave
King West
Sure, chicken wings have their place, but we'll do you one better, and it's even (kind of) healthy. Home of the Brave turns the humble floret into a cruciferous cousin of the chicken wing by dousing it in a beer batter and serving it up with Buffalo hot sauce and ranch dressing.
Onigiri
Abokichi
Annex
This adorable Annex eatery is one of the only places in the city to get onigiri, Japanese rice balls in varying flavour combos. Try the gomoku — shiitake, fried tofu, burdock root, carrot mixed with sweet and savoury rice.
Beef brisket sandwich
Black Camel
Rosedale
Black Camel has been serving up solid sandwiches since 2004. The briskets they use for this sandwich take five days to prepare. After being given a dry rub they marinate for three days, get slow-cooked for 12 hours and then rest for 24 hours –' so it's safe to say that it's gonna be ridiculously tender.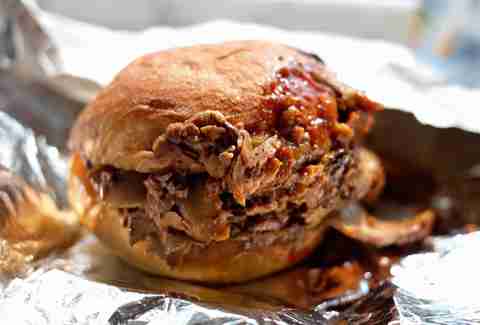 Laksa
Hawker Bar
Ossington
Now that we've marching steadily towards soup season, it's time to get your spoons primed and ready. One of the best bowls on the block is from Singapore' street-food joint Hawker Bar where the hearty laksa sees rice noodles, Chinese eggplant, tofu puffs, and other veggies swim in spicy coconut curry broth for a belly-warming dish that's perfect for dealing with dropping temperatures.
Brie and blue fondue
Carens Wine Bar
Yorkville
Blue cheese, brie cheese, melty, rich, and bubbling away together in what has to be the perfect combo of oozy fondue goodness. Need we say more?
Kimchi potstickers
Patios
Dundas West
There are a lot of interesting, worthwhile items on the menu at this Jamaican-Chinese fusion spot, but if you're going to get one thing, make it the kimchi potsitckers. The pierogi-style dumplings are served with caramelized onions, bacon, and kimchi flavored sour cream with a sprinkle of scallions on top.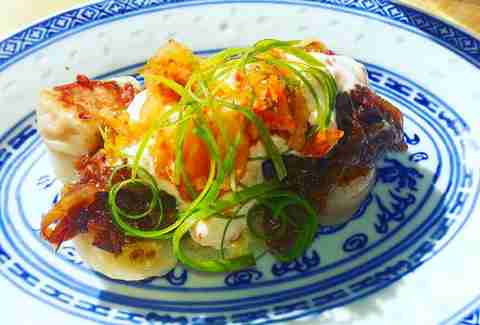 Red velvet cookie
Moo Milk Bar
Queen East
You've have red velvet cake, you've had red velvet cupcakes, now meet the cookie. Savour the cookie. It deserves to be savoured.' Or just get more than one. We're not judging.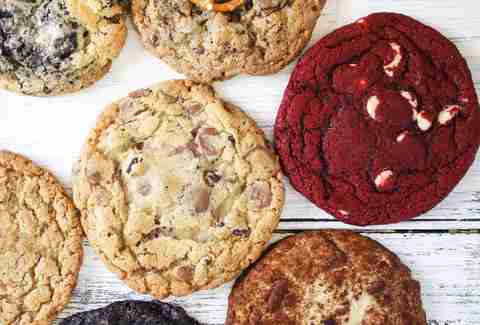 Senator breakfast
The Senator
Yonge & Dundas
Breakfast at the city's oldest restaurant has been featured on You Gotta Eat Here!' and been highlighted by the New York Times. Start your day here with bacon and eggs, house-baked challah, maple-cider baked beans, and home fries.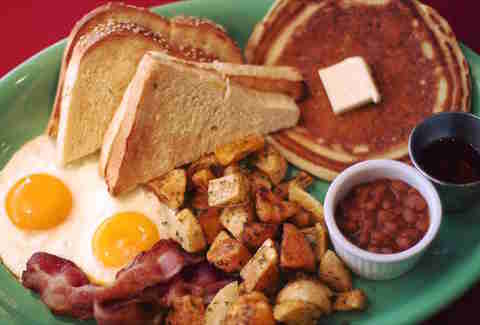 Pit Master platter
The Carbon Bar
Moss Park
Get your BBQ fix here with a plate of pork ribs, beef brisket, buttermilk fried chicken, pickles, fries, and chipotle mayo. This is a meal meant to be shared –' bring eating buddies.