Goan Fish Curry
What's Goan food without authentic' fish curry? This recipe comes exclusively to us from the head chef of Leela Palace, Goa and is a must-try.

Goan Prawn Curry
Crunch your way to juicy' prawns' cooked in a' coconut milk' based Goan curry and let the magic of Goan food take over.

Fish Recheado
'Recheado' means 'stuffed' in Portuguese. Simply put, it's a' pomfret' infused with a tangy recheado paste and fried with' onions' till crisp and golden brown.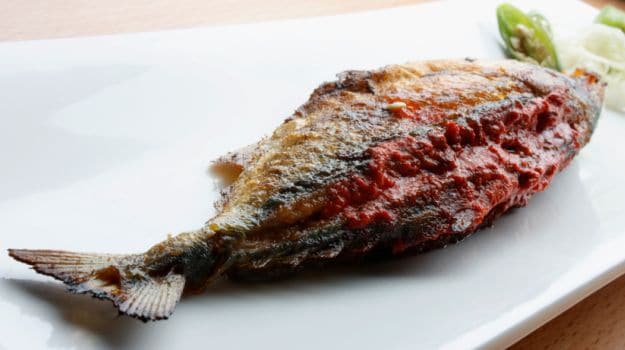 Bebinca
This delicious Goan dessert is carefully layered to perfection. It's prepared usingcoconut' milk,' eggs,' butter, and most importantly,' jaggery. Each bite of this cake makes the next one seem even more exciting.

Pork Vindaloo
This is perhaps the most sensational and memorable Goan dish. 'Vin' stands for' vinegarand 'ahlo', pronounced and written as 'aloo', means garlic. Chillies, ginger,' garlicand' cumin' make the luscious red' masala' which is mixed with vinegar laced' pork' and cooked in a fiery red gravy till it's flaky and tender.

Rava Fried Fish
Anyone who has been to Goa or heard of Goan food will know this dish. Fish fillets flavoured with' ginger,' garlic' and' red' chillies' are fried to perfection and garnished with aromatic' coriander.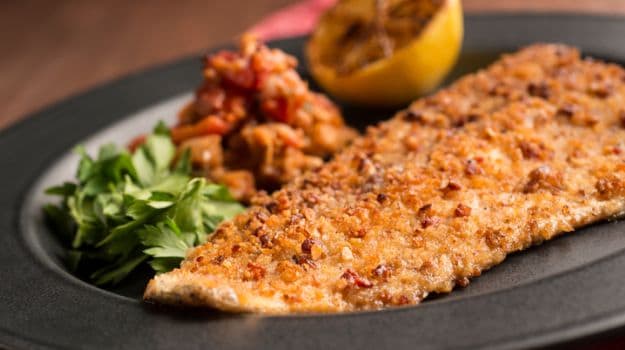 Chicken Xacuti
Xacuti is back and this time for those looking for some juicy chunks of spice infused' chicken. This dish is best enjoyed on a bed of hot rice.

Chicken Cafreal
This dish originated in the Portuguese colony and hence takes a Portuguese name. Chicken is marinated in an extremely' spicy' paste and cooked with vinegar and rum till the chicken turns tender.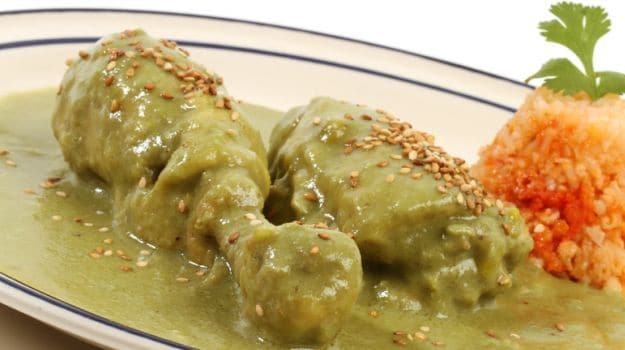 Pork Sorpotel
This Portuguese inspired dish is cooked in almost every catholic household in Goa forChristmas. It is said that authentic Sorpotel is heated for about 20 minutes each day after the first and tastes best on the 3rd or 4th day.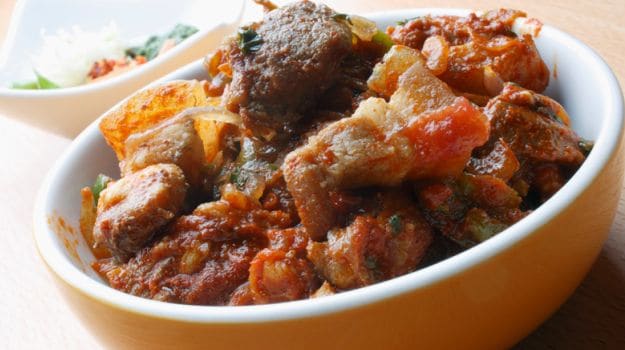 Goan Nevri
Commonly known as 'karanji', sweet small balls made of' flour' are stuffed with coconut, sugar,' cardamom' and' almonds. A famous sweet dish from Goa, this recipe is prepared especially during' Ganesh Chaturthi' and' Diwali' festivals.