Ginger beer
Ginger beer is a traditional and tasty refreshment drink that is produced only in Corfu. It was first introduced to the islands during the British rule (18th century) and it is made till today. It is mostly consumed in summer as it is very refreshing.
Kumquat Spoon Sweet
Kumquat is famous as the traditional product of Corfu. Out of kumquat, the locals make liqueurs and delicious spoon sweets. You can find them in all tourist shops of Corfu or you can make them yourself at home!
Pastitsada
It is a traditional corfiot dish, mainly made with rooster meat or beef. You can find it in all restaurants of Corfu or just prepare it yourself.
Sofrito
This is one of the many traditional dishes of Corfu. As most corfiot local dishes, it dates back from the Venetian times.
Bianco
Bianco is pungent with garlic and is called "white" because it is made without tomatoes.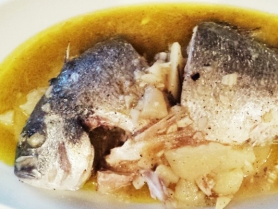 Corfu Bourthetto: Scorpion Fish in a Spicy Red Sauce
Bourthetto (bourdetto, bourdeto) is delicious made with tope (shark), cod or haddock, or scorpion fish (red or black).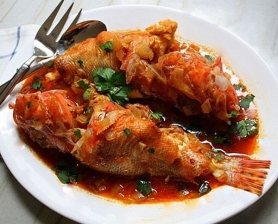 Tzatziki
Firstly, peel the cucumber – this eliminates any crunchy bits in your mostly smooth tzatziki. Then chop it finely, and mix with the lemon juice and oil. Once mixed, add the Greek yoghurt a little at a time ensuring everything is mixed together completely. Pop it into the dish you'll be serving it in, and put it in the fridge while you toast your pitta breads. Once toasted, the bread is lovely when cut diagonally – all the better and warmer to dip into the cool tzatziki.